First Drive Review: 2014 Kia Cadenza by Henny Hemmes +VIDEO
New entry – added value
By Henny Hemmes
Senior European Editor
The Auto Channel
• SEE ALSO: Kia Buyers Guide
GLENDALE, CA - December 24, 2013: Last year I was impressed by the Optima, Kia's new midsize sedan. Not only did I like the design, but also the handling and quality of fit and finish. When I opened the door of the 2014 Cadenza, it was no surprise to see well a executed cockpit, which is certainly in line with Kia's new styling direction. It also confirms that the Optima was not a one-off. Under design chief Peter Schreyer both exterior and interior styling are consistent factors in the family resemblance of the new vehicles, adding to the success of the Kia brand in the US, with more than half a million cars sold here for the first time in 2012.
The Kia Cadenza was unveiled in December 2009 at the Riyadh Motor Show as the successor to the Opirus/Amanti, dubbed K7 in Korea. However, the Cadenza did not make it to the North American market until this year as a special US version. The luxury sedan shares the underpinnings and the 3.3-liter V6 engine with the Azera, its corporate brother from Hyundai. The Cadenza is some two inches longer, but more important, it is hard to find similarities between the pair. It's easier to find a little BMW, especially in the rear end seen from the side, where the Cadenza can be identified by triangular LED tail lights and twin oval tail pipes that are integrated in the rear bumper.
It also is Kia's flag ship. At the 2013 LA Auto Show the Koreans presented a concept for an even larger V8 model that will probably hit the US market in the second half of next year. It was presented as the K900 concept. As a premium, entry-luxury front wheel drive sedan, the Cadenza hits a competitive segment with models such as the Buick Lacrosse, Chevrolet Impala, Chrysler 300 and Toyota Avalon, just to mention a few.
Watch the 2014 Cadenza introduced at the 2013 Detroit Auto Show
With the Cadenza, I drove quite some miles: from Los Angles to San Diego for some leisure time – the first this year – and on to Palm Desert. Leisure still means driving, but the mix of city, country roads and highway proved to be fun and informative.
The only engine available is a 3.3-liter direct injected V6 with 293 hp and 255 lb-ft of maximum torque, combined with 6-speed automatic transmission with Sportmatic. The engine is powerful and runs smoothly and offers enough power to give the 3,800-pound Cadenza a lively character. The 6-speed transmission is an excellent match to the broad torque curve and operates in a smooth way. Since the Cadenza is rated for 22 mpg combined city/highway, I had to count twice to see if I did not make a mistake. Not really: with 25.31 mpg, the Kia proved to be less thirsty. Perhaps the ratings are a bit more conservative nowadays..? Anyway, I wasn't always cruising, and often gave the Kia some
welly
and it was fun to feel how easy it went to higher speeds and to feel the refinement in handling as well.
The suspension is tuned in a way that the car is firm and solid on winding roads, but I guess that well-balanced comfort was more important to the development staff than true sportiness. The hydraulic steering gear gives enough feed back and is not too vague and when you feel active, you can use the paddle-shifters. Anyway, they do provide a sporty look.
It speaks for itself that stitched white nappa leather seat trim asks for extra caution: no eating and no drinking in the car. You cannot complain, as it really looks gorgeous and you want to keep it that way. But if it were your daily driver… white may be a bit unpractical. The interior is really well executed and the Cadenza offers extensive standard equipment, such as leather seat trim, rain sensing wipers, back up warning system, dual zone climate control with air filtration, a cloud-connected navi system with an 8"display, and satellite radio.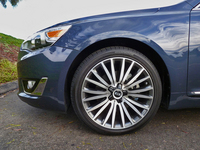 My test car had two packages, each worth 3,000 dollars. The Technology package with advanced smart cruise control, blind spot detection, lane departure warning, electronic parking brake, and 19-inch allow wheels with rubber in the size 245/40/19. The Luxury package offers a panorama roof, HID headlights with adaptive lighting, nappa leather seat and interior trim, ventilated driver's seat, heated steering wheel and more. Pricing starts at $35,900 including handling and with the two packages the Cadenza's MSRP came to $41,900. You get sophisticated exterior styling, a nicely worked out cabin and new safety and comfort features. It will help the Cadenza find its way to buyers, who never before would have considered the Kia brand.
2014 Kia Cadenza
Engine: 3.3-liter V6, gasoline direct injection (GDI)
Power: 293 hp @ 6,400 rpm
Torque: 255 lb-ft @ 5,200 rpm
Transmission: 6-speed automatic
L/W/H: 195.5/72.8/58.1 in.
Wheelbase: 112.0 in.
Cargo volume: 15.9 cu.ft
Curb weight: 3.472 lbs.
MPG: 19 city/28 hwy
As tested: 25.31 mpg
Base Price: $35,900
As Tested: $41,900
Get complete specifications on these vehicles:
Complete specifications on these and other vehicles are available at the New Car Buyers Guide!