2011 Lexus CT 200h - Review - VIDEO ENHANCED
By David Colman
SEE ALSO: Lexus Buyers Guide
Has Lexus gone all New Age-y on us? You betcha. Call the new CT 200h the Lexus Mode Ring. Dash illumination swaps colors depending on your driving mood. Feel relaxed enough to stay in the slow lane, save gas (42 MPG) while saving the planet? Just twirl the oversize dash knob to Normal, EV or ECO Mode and the CT200h will trundle along at a leisurely pace, with buffered steering and throttle responses leading to a Zen driving experience. Lexus sets the mood for this Mode by placing a Hybrid System Indicator gauge to the left of the speedometer. Knowing Eco Status helps assuage carbon footprint guilt. Best of all, whenever you select the Normal/EV/ECO position, all cabin spot lighting, gauge illumination and knob identification shines blue for "Serenity."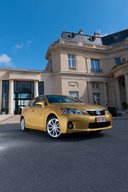 Feeling a bit antsy and aggressive? Then flip the Mode knob to the Sport position and the System Indicator gauge miraculously disappears, replaced by a 7,000rpm tachometer, now illuminated in red, along with red spot lights and dial backgrounds on the dash. Selection of Sport Mode is more than illusory, however, because the Power Control Unit (PCU) that apportions power from the electric motor/combustion engine combination that propels the CT200h is now set to favor red performance over blue lethargy. Entering a turn in Performance Mode, the PCU keeps the engine revving higher in order to enhance engine braking efficiency and platform balance prior to clipping an apex. At corner exit, the PCU keeps the revs higher while Traction Control reduces understeer.
In the real world, all this computerized wizardry works remarkably well. When you swap Normal/EV/ECO Mode for Sport, you can definitely feel the difference on the fly. When the CT is running as a blue light special, the 3,130 pound hatchback behaves like a soul-less appliance, not demanding much attention, barely providing enough impetus to keep you awake. But swap that Mode switch to red, and the CT perks up like a thoroughbred waking from a nap. We found out just how good the CT's reflexes are in red Mode during a two hour drive through the mountains ringing Palm Springs. Although the combined gas/electric motors of the CT make only 140hp, that output is adequate for sport driving thanks to the stiffness of the CT's heavily reinforced and gusseted 64,000 PSI hi-strength steel chassis. Abetting platform stability is a nifty set of strut tower braces front and rear which contain hydraulic dampers within the brace. These 290 PSI Nitrogen Gas stiffeners insure the CT remains stable through severe bends.
Heavy components, such as the Nickel Metal Hydride battery pack, have been kept low in the chassis to reduce the CT's center of gravity and optimize cornering posture. As a result, the CT in Sport Mode puts its low rolling resistance 215/50R17 Michelin MXM4 tires to the test on switchbacks. Although the CT, even in Sport Mode, only turns in a 0-60mph time of 9.8 seconds, it still qualifies as a legit sport sedan thanks to its innate stiffness and outstanding suspension tune.
Click PLAY to watch video
In terms of quality, and comfort, this new entry-level Lexus is something of a mixed bag. Lexus has slipped from 6th to 9th place in the just-announced Consumer Reports Reliability Survey rankings. Although the front compartment of the CT achieves Lexus status in terms of fit and finish, there are a few sticking points for back seat passengers. Access to the aft compartment is impeded by the rear fender dogleg, the seats are too upright for comfort, legroom is negligible with tall front seat occupants, and no central rear ventilation is provided. The best thing about the back seats is that they fold flat enough to convert the CT into a mini station wagon.
With an expected buyer median age of 30-40, the CT will bring a lot of fresh blood into Lexus showrooms. Sixty percent of the anticipated 12,000 new yearly customers will come from other brands, which should lead to a Scion-like re-invigoration of Lexus showrooms. The CT200h goes on sale in March, 2011.
2011 LEXUS CT200h
ENGINE: 1.8 liter gasoline engine mated to Lexus Hybrid Drive System
HORSEPOWER: 134hp
TORQUE: 142 lb-ft @ 4,000rpm (Engine Only)
FUEL CONSUMPTION: 42 CITY MPG/41 HIGHWAY MPG PRICE: N/A
Click PLAY to watch the Lexus CT200h unveiling at the 2010 Geneva Motor Show
Get complete specifications on these vehicles:
Complete specifications on these and other vehicles are available at the New Car Buyers Guide!