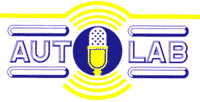 "The AutoLab" is an automotive broadcast series about the automotive industry, its history, and its culture, presenting the ideas of leading college faculty, authors, and automotive practitioners in a relaxed, conversational format.
New programs air
Saturdays at 7:05am Eastern Time




January 31, 2004
Interviews:
Robert Erskine, Senior European Correspondent ... Jaguar XK8
John Russell, Contributor New York Post and Auto World Magazine joined by Mckeel Hagerty, President of Hagerty Insurance and Hagerty Fund for Historic Vehicle Preservation and Education ... Scholarship Program
Keith Bradsher, Hong Kong Bureau Chief, New York Times and Author of the new Paperback Edition of "High and Mighty" the Dangerous Rise of the SUV"
Special Guest: Evaristo Jimenez Principal -- Automotive High School, New York City Department of Education (900 Students)