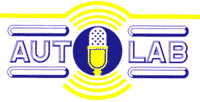 "The AutoLab" is an automotive broadcast series about the automotive industry, its history, and its culture, presenting the ideas of leading college faculty, authors, and automotive practitioners in a relaxed, conversational format.
New programs air
Saturdays at 7:05am Eastern Time




January 10, 2004
Interviews:
Michelle Krebs, New York Times and Senior Editor Auto World Magazine ... New York Times Article "In Detroit, Home Teams Swing for the Fences"
John Russell, Contributor New York Post and Auto World Magazine joined by Sharon Sudal ... The Detroit Auto Show
Robert Erskine, Senior European Correspondent ... "A Stormer of a Storm", the New Land Rover Stormer
David Champion, Director of Auto Testing, Consumer Reports ... "Consumer Reports rates Acura TL Best in Class for Upscale Sedans"