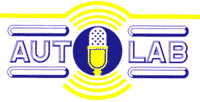 "The AutoLab" is an automotive broadcast series about the automotive industry, its history, and its culture, presenting the ideas of leading college faculty, authors, and automotive practitioners in a relaxed, conversational format.
New programs air
Saturdays at 7:05am Eastern Time




December 6, 2003
Interviews:
David Champion, Director of Auto Testing, Consumer Reports ... Have American Cars Caught up?
John Russell, Contributor, New York Post and Auto World Magazine with Gary Allen ... Armoring Vehicles
Robert Erskine from London England ... Mazda's Rotary Engine: "Round and Round, Not Up and Down"