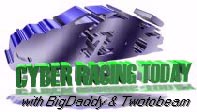 This Weeks Show:

Cyber Racing Today supplements:

Past Show:

Send comments, questions, and requests to Cyper Racing Today:
CyberRacingToday@juno.com
---
Cyber Racing Today supporters:
Alex Koziol's Cyber Racing SportsCenter (www.cyber-racing.com)
Bob Ricci (www.pagepalace.com/stupidband)
Parody Central (www.monmouth.com/~rdickinson)
What is Cyber Racing Today?
Cyber Racing Today is the only talk show dedicated to online sim racing. It emerged from Alex Koziol's Cyber Racing SportsCenter's RealAudio interviews in October 1997 and has become the most talked about audio news source for the NASCAR Racing Online Series (NROS) on the Total Entertainment Network (TEN). Coverage leans towards the lighter side of multiplayer racing on the internet by offering a heaping helping of on-line related humor, yet offers substantive information to the sim racing community. Check here each week for sim racing news, updates, interviews, and league coverage. The show is hosted by sim racing veterans BigDaddy and Twotobeam. Each have had an excess of two years in on-line multiplayer league racing experience and are familiar names in the sim racing community. Many have expressed a desire to commit these two, but instead gave them their own show. If you ask their friends and family, all attest that both are certifiable.
So, what is the NASCAR Racing Online Series (NROS)? The NROS on TEN enables up to 20 human opponents to race against each other on precise digital models of the 16 real NASCAR race tracks such as Talladega Super speedway, Bristol, and Charlotte Motor Speedway. With dozens of races capable of running simultaneously on the TEN service, hundreds of players are able to sign on and compete at once.*
The NASCAR Racing Online Series uses a game, NASCAR Racing 2 by Papyrus, and an online infrastructure, the Total Entertainment Network, to deliver the most innovative and realistic marriage of computers, online technology, and sports. In order to compete, all you will need is a computer, a modem, a copy of NASCAR Racing 2, and an account on TEN. For more information about the NROS check out the official NROS Web site located at www.nros.com.*
*Source - Total Entertainment Network
Credits:
The following people make the production of this how possible each week:
Alex Koziol, BASSman, Bob Jennings, Bob Ricci, Chris Watkins, Donnie Keeter, Fernando Neves, Joe Alba, and Mike Davidson
Thanks again guys,
BigDaddy & Twotobeam
Note: NROS, NASCAR, and Papyrus do not endorse or otherwise have any involvement with Cyber Racing Today.
---