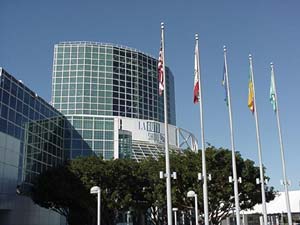 2001 Greater Los Angeles Auto Show
Coverage of the Los Angeles Auto Show will begin on Thursday, January 4th, with two jam-packed days of new vehicle introductions, press conferences, and celebrity interviews. BMW, Volkswagen, Ford, Isuzu, Panoz, Volvo, Daewoo, Dodge and Jaguar are among the manufacturers scheduled to unveil new vehicles or significant updates. TACHís coverage will receive an energetic start on Thursday morning with the Motor Press Guild Breakfast and keynote address by Dr. Wolfgang Reitzle; group vice president of Ford Motor Company's Premier Automotive Group. As head of the international operations of Aston Martin, Jaguar, Land Rover, Lincoln and Volvo, Reitzle will, among other things, discuss the current and future state of the luxury market.
Traditionally, Media Days at the LA and Detroit shows are reserved exclusively for working automotive journalists and industry members, who get the opportunity to examine the latest offerings and final versions of new vehicles before they're put on display to the general public. However, THE AUTO CHANNELís extensive behind-the-scenes broadcasts give every automotive enthusiast and fan around the world a personal and unedited look at all the events.
Previous Years Coverage:
2000 Greater L.A. Auto Show
1999 Greater L.A. Auto Show
1998 Greater L.A. Auto Show
Friday, 23 November 2012
Thursday, 22 November 2012
Wednesday, 21 November 2012
Tuesday, 20 November 2012
Monday, 19 November 2012
Sunday, 18 November 2012
Saturday, 17 November 2012
Friday, 16 November 2012
Thursday, 15 November 2012
Wednesday, 14 November 2012
Tuesday, 13 November 2012
Monday, 12 November 2012
Sunday, 11 November 2012
Saturday, 10 November 2012
Friday, 09 November 2012
Thursday, 08 November 2012
Wednesday, 07 November 2012
Tuesday, 06 November 2012
Monday, 05 November 2012
Sunday, 04 November 2012
Saturday, 03 November 2012
Friday, 02 November 2012
Thursday, 01 November 2012
Wednesday, 31 October 2012
Tuesday, 30 October 2012
Monday, 29 October 2012
Sunday, 28 October 2012
Saturday, 27 October 2012
Friday, 26 October 2012
Thursday, 25 October 2012
Wednesday, 24 October 2012
Tuesday, 23 October 2012
Monday, 22 October 2012
Tuesday, 16 October 2012
Monday, 15 October 2012
Sunday, 14 October 2012
Saturday, 13 October 2012
Friday, 12 October 2012
Thursday, 11 October 2012
Tuesday, 09 October 2012
Monday, 08 October 2012
Sunday, 07 October 2012
Thursday, 04 October 2012
Wednesday, 03 October 2012
Tuesday, 02 October 2012
Monday, 01 October 2012
Sunday, 30 September 2012
Saturday, 29 September 2012
Friday, 28 September 2012
Thursday, 27 September 2012
Wednesday, 26 September 2012
Tuesday, 25 September 2012
Monday, 24 September 2012
Saturday, 22 September 2012
Friday, 21 September 2012
Sunday, 16 September 2012
Friday, 14 September 2012
Wednesday, 12 September 2012
Tuesday, 11 September 2012
Sunday, 09 September 2012
Saturday, 08 September 2012
Tuesday, 04 September 2012
Sunday, 02 September 2012
Saturday, 01 September 2012
Friday, 31 August 2012
Wednesday, 29 August 2012
Friday, 24 August 2012
Wednesday, 22 August 2012
Tuesday, 21 August 2012
Sunday, 19 August 2012
Wednesday, 15 August 2012
Thursday, 09 August 2012
Sunday, 29 July 2012
Friday, 27 July 2012
Wednesday, 25 July 2012
Tuesday, 24 July 2012
Monday, 23 July 2012
Sunday, 22 July 2012
Saturday, 21 July 2012
Thursday, 19 July 2012
Wednesday, 18 July 2012
Tuesday, 17 July 2012
Monday, 16 July 2012
Sunday, 15 July 2012
Saturday, 14 July 2012
Friday, 13 July 2012
Wednesday, 11 July 2012
Tuesday, 10 July 2012
Monday, 09 July 2012
Sunday, 08 July 2012
Saturday, 07 July 2012
Friday, 06 July 2012
Thursday, 05 July 2012
Monday, 02 July 2012
Saturday, 30 June 2012
Friday, 29 June 2012
Thursday, 28 June 2012
Wednesday, 27 June 2012
Tuesday, 26 June 2012
Monday, 25 June 2012
Sunday, 24 June 2012
Saturday, 23 June 2012
Friday, 22 June 2012
Thursday, 21 June 2012
Wednesday, 20 June 2012
Tuesday, 19 June 2012
Monday, 18 June 2012
Sunday, 17 June 2012
Saturday, 16 June 2012
Friday, 15 June 2012
Thursday, 14 June 2012
Wednesday, 13 June 2012
Tuesday, 12 June 2012
Monday, 11 June 2012
Sunday, 10 June 2012
Saturday, 09 June 2012
Friday, 08 June 2012
Wednesday, 06 June 2012
Monday, 04 June 2012
Sunday, 03 June 2012
Friday, 01 June 2012
Thursday, 31 May 2012
Tuesday, 29 May 2012
Sunday, 27 May 2012
Wednesday, 23 May 2012
Tuesday, 22 May 2012
Saturday, 19 May 2012
Friday, 18 May 2012
Thursday, 17 May 2012
Tuesday, 15 May 2012
Sunday, 13 May 2012
Thursday, 10 May 2012
Wednesday, 09 May 2012
Monday, 07 May 2012
Saturday, 05 May 2012
Friday, 04 May 2012
Tuesday, 01 May 2012
Friday, 27 April 2012
Wednesday, 25 April 2012
Sunday, 22 April 2012
Saturday, 21 April 2012
Friday, 20 April 2012
Wednesday, 18 April 2012
Saturday, 14 April 2012
Friday, 13 April 2012
Tuesday, 10 April 2012
Saturday, 07 April 2012
Wednesday, 04 April 2012
Tuesday, 03 April 2012
Friday, 30 March 2012
Thursday, 29 March 2012
Wednesday, 28 March 2012
Tuesday, 27 March 2012
Sunday, 25 March 2012
Tuesday, 20 March 2012
Monday, 27 February 2012
Saturday, 11 February 2012
Tuesday, 31 January 2012
Thursday, 26 January 2012
Monday, 16 January 2012
Sunday, 01 January 2012
Sunday, 11 December 2011
Saturday, 10 December 2011
Sunday, 27 November 2011
Wednesday, 07 February 2001
Thursday, 18 January 2001
Wednesday, 17 January 2001
Monday, 15 January 2001
Friday, 12 January 2001
Wednesday, 10 January 2001
Saturday, 06 January 2001
Friday, 05 January 2001
---
Thursday January 4, 2001
(all times are Pacific)

---
---
Friday January 5, 2001
(all times are Pacific)

---