Mercedes-Benz Buyers Guide
2005 Mercedes-Benz SLR McLaren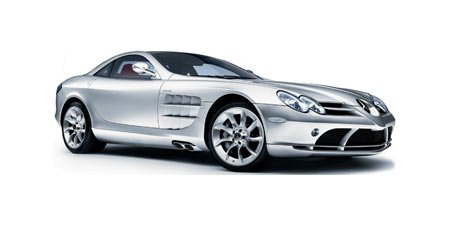 MSRP:
$450,000
Invoice:
$418,500
Gas Mileage:
CTY: 13 HWY: 18 CMB: 15
Engine/Fuel:
8 Cyl
Transmission:
Door/Body Style:
2 Door/Sports Car/Luxury Coupe,CPE
Drive Type:
Prices/Warranty
See the prices and various warranties offered.
General
MSRP: $450,000
Invoice Price: $418,500
Destination Charge: $
Warranty
Basic (Month):
Basic (Mileage):
Powertrain (Month):
Powertrain (Mileage):
Rust (Month):
Rust (Mileage):
Engine & Emissions
View engine and emission data on this vehicle.
Engines & Emissions
Supercharged 5.5-Liter, 90-Degree V8, 24-Valve, SOHC, SEFI Engine; Front Mounted With Horsepower Of 617@6500, Torque Of 575@3250, Alloy Block and Alloy Cylinder Heads
Engine
Type of Engine:

5.5L V8

Displacement (CC):

332

Fuel System:

SEFI

Horsepower @ RPM:

617@6500

Torque @ RPM:

575@3250

Compression ratio:

8.8

Cylinders:

8

Bore X Stroke:

3.82x3.62
Dimensions
See the interior and exterior dimensions.
Exterior Dimensions
Track Front:

64.5

Track Rear:

61.8

Overall Length (in):

183.3

Overall Width (in):

75.1

Overall Height (in):

49.6

Wheelbase (in):

106.3

Curb weight (lbs):

3732

Interior Dimensions
Seating capacity - Standard:

2

Seating Capacity - Maximum:

2

Headroom front (in):

36.2

Hip room front (in):

56.8

Leg room front (in):

39.6

Shoulder room front (in):

54.0
Features
See the features of this vehicle.
Exterior

Air Brake Via Rear Spoiler
Automatic Headlights With Automatic On/Off and Dusk Sensor
Heated Headlight Washers
High Beam Halogen Headlights
Low Beam Bi-Xenon High Intensity Discharge Headlights With Automatic Leveling
Programmable Daytime Running Lights
Retractable Rear Spoiler
Heating, Ventilation & Air Conditioning
Automatic Climate Control With Sun Sensor
Separate Driver/Front Passenger Climate Controls
Entertainment, Communication & Navigation
AM/FM Radio With AudioPilot(TM) Speed Sensitive Volume, Bose(R) Cabin Surround(TM) Sound System and 7 Speakers Total; Cassette Player; CD Player; Trunk Mounted 6-Disc CD Changer
Instrumentation
Chrome Located On Instrument Panel
Distronic Intelligent Cruise Control
Electroluminescent Instrumentation
Leather Interior Trim Located On Doors, Center Console and Instrument Panel
Tachometer
Wheels & Tires
Alloy Wheels, Front 19-In. X 9-In. and Rear 19-In. X 11.5-In.
Front SBRP255/35ZR19 and Rear SBRP295/30ZR19, High Performance Tires
Tire Pressure Monitor
Windows, Mirrors & Wipers
Dual Power Adjustable Heated Exterior Rearview Mirrors
Power Windows With Driver and Passenger One-Touch Up/Down
Rain Sensing Variable Intermittent Windshield Wipers
Safety Features
View the built in safety features included.
Safety Features
BabySmart(TM) Passenger Airbag Cutoff Sensor Activated By Compatibly Installed Child Seat
Crash Sensor Sends GPS Signal
Door Mounted Front Side Airbag With Head Protection
Driver Airbag With Dual Stage Deployment
Front 3-Point Seatbelts
Knee Airbag
Passenger Airbag With Dual Stage Deployment
Anti-Theft
Power Door Locks Operated Via Remote
Tele Aid Telematics Includes Automatic Collision Notification, Concierge Services, Emergency Response, Roadside Assistance, Security System Notification, Stolen Vehicle Tracking, Remote Unlocking, Reservations, Navigation, and Traffic Information
Vehicle Anti-Theft Via Alarm, Engine Immobilizer, and Anti-Lift Sensor
Braking & Traction
4-Wheel Anti-Lock Brakes
Automatic Slip Control (ASR) All-Speed Traction Controlled Via ABS and Engine Management
Ceramic Front Power 370-mm X 36-mm Ventilated Disc and Ceramic Rear Power 360-mm X 28-mm Ventilated Disc Brakes
Sensotronic Drive-By-Wire Control For Brakes
Read Reviews
Expert opinions you can trust.
Fuel Economy Guide
Research the yearly spend on gasoline for every Mercedes-Benz in our database.
The fuel economy calculations assume annual mileage of 15,000 miles, 45% of which is highway miles and 55% city miles and fuel costs of $2.79 per gallon. These figures can be adjusted to more accurately reflect your driving style and fuel costs in your area:







NHTSA Test Results
Get crash test results, service bulletins, and product recalls for every Mercedes-Benz model.
Click a car name to see the crash test details for that model.

Crash Test Data for 2005 Mercedes-Benz

Service Bulletins for 2005 Mercedes-Benz

2005 MERCEDES-BENZ E350
Bulletin Number: 033008
CHECK ENGINE LIGHT ON / FAULT CODES FC1200 / FC1208 STORED IN ME-SFI CONTROL UNIT. MERCEDES-BENZ MODEL C230, C280, C350, SLK280, SLK350, CLK350, CLK550, E350, E550, CLS550, S600, AND SL550. EQUIPPED WITH M272 ENGINE OR M273 ENGINE. *NJ
Bulletin Number: 2006110005
INSTALL SOFTWARE FOR NAVIGATION SYSTEM. *KB UPDATED 3/5/09. *PE
Bulletin Number: 2007010002
REMOVE FRONT WHEEL HOUSING WATER DRAIN NOZZLES IF PRESENT AND CLEAR WATER DRAIN PASSAGES. *KB
Bulletin Number: 2007100004
MODELS E320, E500, E55, E350, E550, E63 AND S430 4MATIC, S500 4MATIC. MY 2005-2006 -- REPLACE TRANSFER CASE. *NJ UPDATED 5/13/09. MODELS C280, C350, C320 AND C240. MY 2005-2007. *PE
Bulletin Number: 2008010001
MERCEDES-BENZ - CHECK CATALYTIC CONVERTERS AND REPLACE IF NECESSARY - MODELS 203, 209, 211, 215, 230 - MODEL YEARS 2004-2005. *NJ UPDATE 8/7/2008. *PE
Bulletin Number: 2008020001
MERCEDES BENZ SERVICE CAMPAIGN: SEE DOCUMENT SEARCH BUTTON FOR OWNER LETTER. CHECK FUEL FILTER MODULE ASSEMBLY AND REPAIR OR REPLACE IF NECESSARY. MODELS 211 AND 219 AMG. MODEL YEARS 2003-2006. CSC WAS RECEIVED. *PE
Bulletin Number: 20-P-053398
XENTRY: RATTLING/THUMPING NOISES FROM THE AREA OF THE STEERING ON ROUGH ROADS OR WHEN DRIVING OVER ROAD UNDULATIONS. NO MODEL YEARS GIVEN. ALSO INCLUDED MODELS 168 AND 172. *JS
Bulletin Number: 40-P-052794
MERCEDES BENZ: FRONT OR REAR SEAT BELT DOES NOT ROLL UP CORRECTLY. DIRT DEPOSITS ON THE SEAT BELT GUIDE DUE TO SOILED SEAT BELT. ALSO INCLUDED MODELS 169, F CELL, 246, AND 231. NO MODEL YEARS GIVEN. *JS
Bulletin Number: 40-P-053441
XENTRY: MERCEDES BENZ: REVERSIBLE EMERGENCY TENSIONING RETRACTOR IS COMPATIBLE WITH WIRING HARNESS, MODEL E350 MODEL YEAR UNKNOWN. *JS
Bulletin Number: 461018A
STEERING WHEEL HEATER NOT OPERATING CORRECTLY OR INOPERATIVE AT COLD TEMPERATURES. MERCEDES BENZ MODEL 211. MODEL YEAR UNKNOWN. *TT MODEL 211 (E SERIES). UPDATE 8/8/2008. *PE
Bulletin Number: 462046
PLAY IN THE RACK AND PINION STEERING SYSTEM. MODELS 203, 209, 210, 211, 215, 220, 230. MERCEDES BENZ. *KB UPDATED 5/13/09. *PE
Bulletin Number: 470036
MERCEDES: THE FUEL LEVEL INDICATED IN THE INSTRUMENT CLUSTER DOES NOT MATCH THE ACTUAL FILL LEVEL. THIS MAY BE CAUSED BY A FAULT IN THE FUEL LEVEL SENSOR FUNCTION CHAIN: HYDRAULIC AND ELECTRICAL LINES AND THEIR CONNECTIONS, REAR SAM OR IN
Bulletin Number: 472051
MODEL E350, CODE 914 (PZEV FUEL TANK) - ENGINE STALLS / DOES NOT RESTART. MY 2003-2007. *NJ
Bulletin Number: LI05 20-P-067123
Oil in engine wiring harness
Bulletin Number: LI07.08-P-060993
Engine diagnosis warning lamp lights up in instrument cluster, fault code U145400: "Implausible data were received from the ethanol sensor"
Bulletin Number: LI-27-19P056458
XENTRY (MERCEDES): COMBINATION OF FAULT CODES P060C00 AND/OR P060600, CAUSING VARIOUS TRANSMISSION SYMPTOMS DUE TO CENTRAL PROCESSING UNIT, SOFTWARE INDUCED INTERNAL CONTROL UNIT FAULT IS DETECTED. MODEL 212.098, 212.298, 212. 095, 212.19
Bulletin Number: LI-27-20
MERCEDES-BENZ: THE VEHICLE JERKS OR HAS HARD SKIPPING SHIFTS. THERE ARE MANY POSSIBLE FAULT CODES. THE TORQUE CONVERTER LOCKUP CLUTCH HAS A CLOGGED FILTER. *RM
Bulletin Number: LI32-22-P-048597
MERCEDES BENZ (XENTRY): VEHICLE DROPS AT REAR AXLE, DISPLAY MESSAGE-AIRMATIC-SERVICE REQUIRED. THE VEHICLE DROPS AT THE REAR AXLE AFTER STANDING FOR A LONG TIME. DAMAGED SEALING RINGS IN AIR SUSPENSION ELEMENT ON REAR AXLE CAN LEAD TO MI
Bulletin Number: LI32-22-P-051722
MERCEDES: AIRMATIC MALFUNCTION. LEAKING AIRMATIC SYSTEM AND NOT A FAULTY COMPRESSOR. *KB
Bulletin Number: LI32-22P051722
XENTRY(MERCEDES): MALFUNCTIONING OF THE AIRMATIC IN THE DISPLAY. *PE UPDATED 3/9/12. *PE
Bulletin Number: LI46-20-P-048484
XENTRY: STEERING LEAKY AT INTERNAL OIL LINES. CONNECTOR OF INTERNAL OIL LINE OR SEALING WASHERS/O-RINGS DAMAGED. NOT NECESSARY TO REPLACE THE ENTIRE STEERING SYSTEM. REMOVE STEERING; REPLACE BOTH INTERNAL OIL LINES; INSTALL STEERING. MO
Bulletin Number: LI46-40-P-047549
MERCEDES: CRACKING/CREAKING NOISES FROM FRONT AXLE WHEN VEHICLE IS SUBJECT TO TORSION OR WHEN STEERING WHEEL IS TURNED. THIS IS MAINLY HEARD WHEN THE VEHICLE IS STATIONARY OR WHEN THE VEHICLE IS MOVING SLOWLY. RELATIVE MOVEMENT BETWEEN TH
Bulletin Number: LI-47-00
XENTRY: M271.8 EVO ENGINE HAS POOR ACCELERATOR RESPONSE- LACK OF POWER UNDER FULL LOAD AND HIGH RPM. ENGINE DIAGNOSIS WARNING LAMP (CEL) LIGHTS UP, VEHICLE IS IN LIMP-HOME MODE (MAY OR MAY NOT BE INTERMITTENT). *JS
Bulletin Number: LI-54-18
MERCEDES BENZ (XENTRY): WIRING HARNESS IS DAMAGED IN AREA OF ROOF FRAME. VEHICLE CAN NOT BE STARTED BECAUSE THE CHASSIS CAN BUS AND/OR INTERIOR CAN FAULT CODES STORED IN QUICK TEST. *PE
Bulletin Number: LI54 30-P-068430
Display of suspension setting in head unit implausible
Bulletin Number: LI-58-40
XENTRY (MERCEDES): ENGINE WARNING LAMP IS CURRENTLY ON OR WAS ON AND A DELAY FAULT OF THE CAMSHAFT ADJUST TO CURRENT OR STORED IN THE ENGINE CONTROL UNIT. MODELS 171, 203, 209, 211, 219, 221, 216, 230, 164, 251, AND 403. NO MODEL YEARS LI
Bulletin Number: LI72-10P-055044
MERCEDES (XENTRY): THE INSIDE DOOR HANDLE, ON FRONT DOOR, IS INOPERATIVE DUE TO THE BOWDEN CABLE BECOMING UNHOOKED FROM CLIP AND NEEDS TO BE REPLACED. MODEL 207. NO MODEL YEARS LISTED. *PE
Bulletin Number: LI72 20-P-068322
Liftgate intermittently does not open fully
Bulletin Number: LI82.70-P-060004
iPhone mobile phone: Various complaints after software update to iOS8
Bulletin Number: LI91-40-P-047183
MERCEDES: SEAT BELTS, EMERGENCY TENSIONING RETRACTORS. MODEL SERIES 204 (WITH CODES 299 AND 800), 207, 212. SEAT BELT CAN ONLY BE PULLED OUT WITH GREAT EFFORT. AT THE SAME TIME A NOISE CAN BE HEARD FROM THE REVERSIBLE REEL TENSIONER GEA
Bulletin Number: LI91 45-P-066075
Seat belt extender toothed rack sluggish or makes noises
Bulletin Number: LI-91-60-P052463
XENTRY(MERCEDES): BULLETIN REGARDING THE 4 SPOKE STEERING WHEEL CHROME BADGES ON DRIVER AIRBAG THAT ARE PEELING AND/OR DISCOLORED. *PE
Bulletin Number: P-047526
MERCEDES BENZ: INSTRUMENT CLUSTER-ANALOG POINTERS NONFUNCTIONAL AFTER VEHICLE IS STARTED. ALL ANALOG POINTERS IN THE INSTRUMENT CLUSTER (A1) MAY NOT BE FUNCTIONAL FOR APPROX. ONE TO TWO MINUTES AFTER THE ENGINE IS STARTED. FULL FUNCTION
Bulletin Number: PB-72-20-31D
MERCEDES BENZ: TAILGATE DOES NOT OPEN FULLY IN COLD WEATHER. THE TAILGATE NOT OPENING FULLY IN COLD WEATHER, DO NOT REPLACE THE STRUTS. *PE
Bulletin Number: PB-82-10/612
MERCEDES BENZ: MODEL 211.026, 056, 065, 070, 072, 076, 077, 082, 083, 087, 090, 256, 265, 276, 277, 282, 283, 287 EQUIPPED WITH OPTION CODE 615 (BI-XENON). HEADLAMP RANGE ADJUSTMENT NONFUNCTIONAL WITH DTC CODES 9010, 9011, 9012, 9013 OR
Bulletin Number: P-B-82.10/626
MERCEDES-BENZ: MODEL 211.026, 065, 070, 076, 082, 083, 265, 276, 282, 283 (E-CLASS). VIN A564853 AND X161341; EQUIPPED WITH BI-XENON AND CURVE ILLUMINATION. CURVE ILLUMINATION NONFUNCTIONAL. *PE
Bulletin Number: SB-2008120008
MERCEDES BENZ: MODELS 203, 209, 211, 219,230, AND 463; MODEL YEARS 2005-2007. REPLACE PILOT BUSHING AT ELECTROHYDRAULIC UNIT. DAIMLER AG HAS DETERMINED THAT ON AFFECTED VEHICLES THE TRANSMISSION PILOT BUSHING MAY LEAK. DEALER WILL REPLA
Bulletin Number: SB-32-22-78
MERCEDES: AIR MATIC VISIT WORKSHOP DISPLAYED WITHIN INSTRUMENT CLUSTER. MODELS 164, 211, 219, 221 AND 251. INCLUDED 4MATIC, AMG (COMPRESSOR) AMG, BLUETEC AND WAGON. MODEL YEARS UNKNOWN. *PE UPDATED 9/18/09.
Bulletin Number: SB-59783
MERCEDES-BENZ: THERE ARE ELECTRICAL PRODUCTION QUALITY ISSUES THAT CAUSE THE AIR BAG WARNING LIGHT TO ILLUMINATE. *RM
Bulletin Number: SC-2007100004
MERCEDES: REPLACE TRANSFER CASE ON AFFECTED VEHICLES OPTIMIZED TRANSFER CASES WILL REDUCE VIBRATIONS WHEN CORNERING OR WHEN PARKING. MODELS 203, 211, 220. *PE
Bulletin Number: TB-P-047927
MERCEDES: FOLLOWING FAULT CODES ARE ENTERED IN THE CONTROL UNIT AND DISPLAYED-FC5320 DRAIN VALVE:OPEN CIRCUIT OR INSUFFICIENT VALVE CURRENT IN MODELS SERIES 211, 219; FC5260 DRAIN VALVE OPEN CIRCUIT OR INSUFFICIENT VALVE CURRENT IN MODEL 2
Bulletin Number: TSB-82-00-695
MERCEDES: PART CHANGE TO BANJO BOLT FOR HEADLAMP MOUNT. THE LATCH FOR THE BANJO BOLT FOR THE HEADLAMP MOUNT IS NO LONGER NEEDED; THEREFORE, THE NEW PART IS NOW SCREWED ONTO THE LAMP FRAME USING A THERMOPLASTIC NUT *PE

Recalls for 2005 Mercedes-Benz

No recalls exist.
Green Vehicles
Find the Mercedes-Benz models that are the cleanest and most fuel efficient.
The Green Vehicle Guide will help you find the most fuel-efficient Mercedes-Benz for your needs.

California emissions requirements differ from the federal requirements, and therefore selecting ALL STATES may produce multiple listings for the same vehicle.
Monthly Payment Calculator
Find a car or truck made by Mercedes-Benz that fits your budget by using our monthly payment calculator.
Make your selections in the boxes below and click the "Generate List" button to see a list of Mercedes-Benz cars and trucks that fit your monthly budget.